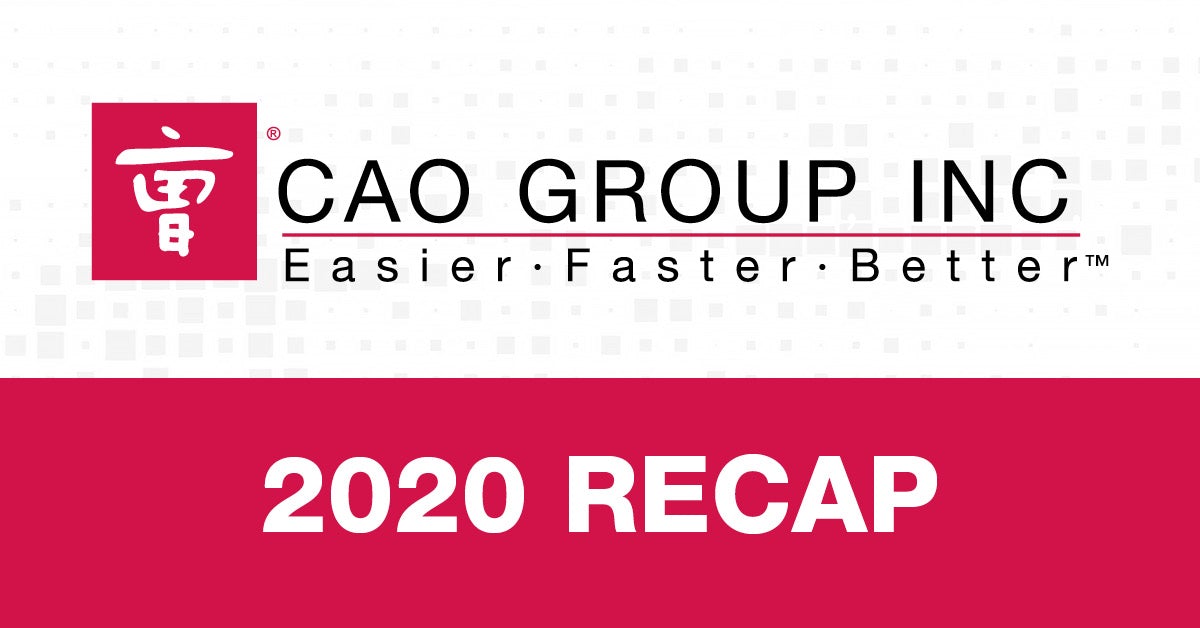 How can one put to words what we all experienced in 2020? We are cognizant of the challenges we all have faced and continue to face due to the effects of COVID-19. Our hearts go out to everyone that has suffered in some shape or form due to the pandemic we find ourselves in.
We have all been tried in ways that we may have never been tried before. However, like through any travesty, there are bright spots we can hold to and focus on.
In 2020, we here at CAO Group dedicated ourselves to the fight of helping our dental professionals continue to practice dentistry safely, efficiently, and effectively. The pandemic has affected businesses and practices in many ways. We have heard how many practices have struggled to stay afloat as patients are leery of being exposed to the virus. In hearing these struggles of our fellow dental professionals, we offered discounts and promotional initiatives to help these practices wade the storm. CAO launched several effective initiatives last year to combat our world's circumstances.
Below are two of the many highlights from last year where we were able to make a positive impact in a trying time:

Aegis VacStation
In March, CAO Group released the only extraoral evacuator that eliminates 100% of spatter and 99.98% of harmful aerosols completely backed by third-party studies and scientific data. We like to say, the Aegis VacStation "ACTUALLY WORKS" as compared to other units on the market. The Aegis VacStation has allowed practices to maintain their business by helping their patients remain safe, practice dentistry like normal, and save hundreds on PPE.
Are you ready for your Aegis VacStation?
Armis Infection Control Equipment
With the shortages of masks, face shields, and more CAO Group launched our Armis Infection Control products to make sure practices have the vital PPE that they need. We supply practices with essential protective equipment at low costs and in bulk. The world now vastly views infection control products different than ever before. With our line of infection control products practices can supply their staff and patients with what they need to keep them safe.
Shop Armis Infection Control and PPE Now.
As a company we feel very lucky to have had a great year of growth in 2020. For us, 2020 furthered our desire to provide industry-leading products that help make dentistry easier, faster, and better. Though we had great success, we join most everyone in that we are happy to have 2020 behind us. We cannot wait for what is ahead in 2021 and to push the limits of innovation in dentistry and beyond.
Below are just a few of the programs and products we are looking forward to in 2021:
Subscribe and Save
Subscribe and Save provides automatic shipment with a 20% off purchase of professionals' products. This allows professionals to automatically receive laser tips, infection control products (PPE), VacStation filters and more! Being released February 2021, we are excited to help make operating your practice even easier. Link Coming Soon!
Upgrade and Save
Upgrade and Save allows CAO laser purchasers to upgrade their laser or try a new laser for 40% the cost. Lasers are an investment for professionals' practices- an investment that pays dividends in full. Now, it is even more affordable to keep your practice lasing effectively.
Learn more about the Upgrade and Save program.

ClearVue LED Bulbs
ClearVue LED bulbs are next-gen light bulbs in dentistry. ClearVue converts your traditional halogen operatory lighting unit to LED with simple plug-and-play technology. ClearVue LED bulbs maintain their true color throughout their life, last nearly 60,000 hours longer than halogen bulbs, and have minimal heat output.
Learn more about ClearVue LED Bulbs here.

Cavity pHighter Mints and Strips
Cavity pHighter Mints and Strips are the newest technology in protecting your patients when they leave your practice. Cavity pHighter Mints are consumable mints that help increase the pH level and buffering capacity of your patients' mouths. The Cavity pHighter Strips allow your patients to gauge and measure the pH and buffering levels of their mouths. Letting them know when they are most susceptible to carries and thus protecting their oral hygiene on the go.
Learn more have Cavity pHighter Mints and Strips here.
Jan 26, 2021

Category:

Blog
Comments: 0