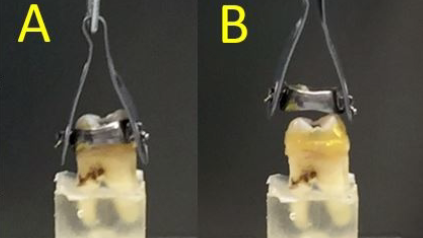 by CAO Marketing May 21, 2019
DENTAL RESEARCH CONFERENCE TO GET UPDATE ON FIRST-EVER REVERSIBLE CEMENT DEVELOPED BY CAO GROUP, INC.
SALT LAKE CITY (May 21, 2019) – CAO Group, Inc. (CAO) and University of Washington School of Dentistry (UW) researchers will present the first-ever reversible dental cement at the 2019 International Association for Dental Research Conference in Vancouver, B.C., June 19-22, 2019.
Because many dental procedures depend on cements to place dental prosthetics, clinicians have long sought a cement to bond and debond dental prosthetics on command with patients.
"CAO has spent more than a decade researching and developing a cement that can bond dental prosthetics with light curing and be easily debonded using a diode laser system," said Dr. Densen Cao, CEO of CAO. "While the debonding process can be as quick as 10-20 seconds, the integrity of the prosthetics and preps are not compromised."
UW researchers first tested the cement system using extracted teeth and orthodontic bands. Results showed orthodontic bands can be easily removed with minimal force after the cement is exposed to the diode laser. Residual cement is easily cleaned without damage to the bands or enamel surface. The following pictures and table show the testing fixture and debonding strength data, respectively.
"Reversible cement developed by CAO showed great promise for applications in restorative dentistry," said Dr. Daniel Chan, chair of the UW's Department of Restorative Dentistry. "The reversible cement can be used in many applications where cementation is needed. The prosthetics can be easily removed, and surfaces can be easily cleaned. It will facilitate and improve all clinical cementation procedures."
Experts agree reversible cement could have very significant applications in orthodontics.
"The reversible cement could be considered for any of the cementation processes in orthodontics, including brackets, bands, fixed retainers, etc.," said Dr. Greg Huang, chair of the UW's Department of Orthodontics.
CAO leaders feel this is just the beginning.
"CAO's mission is to develop products that will make clinical procedures easier, faster, and better for both clinicians and patients," said Cao. "The reversible cement is a part of our continuing innovations to serve clinicians and patients.
"More clinical validation and regulatory clearance are planned in the coming months with the goal to have this revolutionary reversible cement system available to practitioners in partnership with AMD Lasers, Inc., in 2020."
# # #
About CAO Group, Inc.
The CAO Group, Inc., is a world-leading high-tech company in dentistry. CAO has contributed key innovations in dentistry, including invention of LED curing lights, modern diode lasers, medicament delivery strips and more. CAO's innovative products have made the dental procedures easier, faster and better. For more details, visit www.caogroup.com.
About University of Washington School of Dentistry
The University of Washington School of Dentistry is a worldwide leader in dental education and research. The school furnishes comprehensive clinical care and also plays a major role in public health through its service to people with disabilities and efforts to improve access to care for underserved communities.
Press Contact:
Christa Lee Durrant
christalee@caogroup.com
+1-801-907-0962
May 21, 2019

Category:

Blog
Comments: 0